[8] Deidara from Naruto.
[1]Friends only banner
[1] Wallpaper
Teaser:
I'm still very new at manga coloring so please bare with me~
Friends only banner~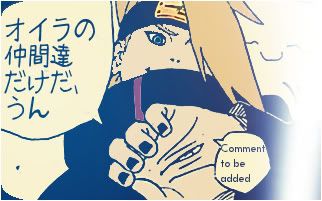 1 Wallpaper. Sorry, Only one size~ 1280x1024
Please credit
sasuke2itachi3
or
desire0rdespair
when taking~
Comments are very much appreciated, a few pointers and stuff would be very helpful~
If you like my work, feel free to
add this community
to your f-list.
Resources can be found in my profile